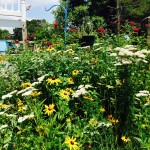 Four months? Really? I didn't do an update all summer?
I was busier than ever with workshops this spring and summer. My flower garden was lovely in the late Spring, early Summer and then I started to travel. Newspaper and mulch helped some but eventually the weeds won out. We also decided to add another 5 or 6 feet to the front to make it easier to mow so those grasses have obscured what flowers might be blooming.
Ditto for the rest of the farm. Bob got nice hay and early greens. He was keeping ahead of the chaos. And then, rain and heat combined to make it impossible. We did get a nice harvest of pears from our house in Williamsburg that are now lovely sauce in the freezer. But, our produce is coming from others…and I'm discovering the fun of the farmer's market. I hope I'm a better consumer because I know how hard farmers work to get the food to the market on Saturday morning. It is, I can tell you, a very hard way to make a living, this raising of food essentially by hand.
I've frozen corn, blueberries and tomato sauce. The blueberries also went into freshly baked hand pies last week and were delicious. There weren't any this week and the season is almost over. So, our sweet treat this week is going to be peach cake using canned peaches from last year.
We've turned our attention from farming to house work. We haven't done much in the past four years: added heat mostly. So, Bob is starting with painting the front porch.
Now to those bees…it is the time of year when you sprinkle them with confectioner's sugar for mites. I did it last week and all seemed fine. One box had really started in on honey production so I know I'll at least get a bit in the fall. The other one hadn't done much. It's a bigger hive so more space to store honey in the bottom boxes.
This week, everyone seemed a little edgier and I only managed to complete one hive. My smoker wasn't helping and eventually failed on. And the bees were going for skin where they could find it. I got stung a couple times so decided to wait on the other hive until another day. Maybe try it earlier or later when it's cooler, too. The suit is very hot and I think the sweat draws them in even more. Who knows? Just not a happy day at the hive.